SAIL "A photographic celebration of sail power"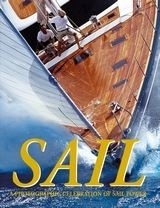 Formato papel
[Sin existencias. Plazo de entrega breve]
PVP.

50,00€
SAIL "A photographic celebration of sail power"
Comenta y valora este libro
resumen
comentarios
índice
This book is an exuberant celebration of sailing in all its glory. Many of the world's most outstanding photographers from Beken of Cowes, Carlo Borlenghi and Gilles Martin-Raget to Rick Tomlinson, Franco Pace and Stanley Rosenfeld, present their tribute to the exciting world of sailing in an impressive galley of amazing action images.

SAIL showcases the sweeping lines and glamorous settings of yachts of all sizes and types: cruising and racing beauties, legendary yachts from this century and the last, mono and multihulls, round the world thoroughbreds and outstanding winners from the ultimate in yacht racing - the America's Cup. For the first time ever, boats which have made their mark on sailing history are immortalised in an outstanding gallery of extraordinary photos from the world's best photographers.

SAIL is a stunning tribute to sailing, which will be treasured by all who love beautiful images, the glamorous lifestyle and the very best in action photography.

Now available in paperback for the first time, this is a book to be treasured by anyone who appreciates captivating images and the excitement of good action yachting photography. A collector's piece.
Formato papel
[Sin existencias. Plazo de entrega breve]
PVP.

50,00€