Performance Standards, 2016 Edition e-reader
KE978E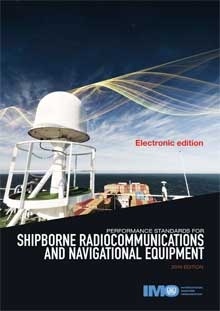 Formato papel
[En stock. Entrega en 24 / 48 horas]
PVP.

95,40€
Performance Standards, 2016 Edition e-reader
KE978E
Comenta y valora este libro
resumen
comentarios
índice
This IMO digital publication (e-reader) is in EBK format for use on a single computer/laptop with our Windows-based e-reader software, "The IMO Bookshelf". If your customer does not already have this software installed on their computer, it can be downloaded, free of charge here: www.imo.org/en/Publications/Pages/Bookshelf.aspx

It may print 10% of the text (approx. a chapter) at a time from a single title with a maximum of 75 pages per day across all titles (not pdf).

The new consolidated edition of Performance Standards for Shipborne Radiocommunications and Navigational Equipment incorporates all amendments adopted up to December 2015 including:

- Electronic inclinometers
- Bridge equipment and systems
- Revised performance standards for shipborne voyage data recorders (VDR)
- Revised performance standards for the long-range identification and tracking of ships
- Amendments to the performance standards for devices to measure and indicate speed and distance and
- Worldwide radionavigation system.
Formato papel
[En stock. Entrega en 24 / 48 horas]
PVP.

95,40€