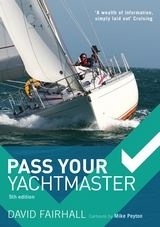 Formato papel
[En stock. Entrega en 24 / 48 horas]
PVP.

22,00€
Comenta y valora este libro
FICHA TÉCNICA
Editorial: Adlard Coles Nautical
ISBN:

978-1-4081-5284-3

Fecha de edición:

2012

Nº edición:

5

Idioma:

Inglés

Encuadernación:

Rústica

Dimensiones: 0 cm x 0 cm

Nº páginas:

112

Materias: Navegación deportiva

/
resumen
comentarios
índice
The aim of this book, now revised for the 5th edition, is to help students through their shore-based Yachtmaster course. Both concise and comprehensive, this 'crammer' covers all the essentials of the RYA syllabus, arranged and highlighted to make revising easier.

Throughout, the theory is set in a practical seagoing perspective. Tips on exam tactics are provided, and to relieve the tension of all that swotting, each section is enlivened with some of Mike Peyton's best loved cartoons.

This book has proved a real help to aspiring Yachtmasters since it was first published.
Formato papel
[En stock. Entrega en 24 / 48 horas]
PVP.

22,00€
Otros libros de Fairhall, David
[Sin existencias. Plazo de entrega breve]

PVP. 19,00€