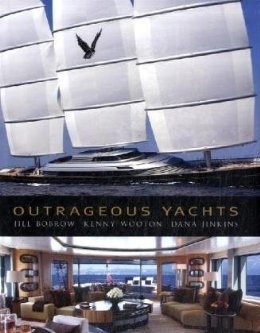 Formato papel
[Sin existencias. Plazo de entrega breve]
PVP.

61,50€
Comenta y valora este libro
FICHA TÉCNICA
Editorial: Adlard Coles Nautical
ISBN:

978-1-4081-2052-1

Fecha de edición:

2002

Idioma:

Inglés

Encuadernación:

Rústica

Dimensiones: 0 cm x 0 cm

Nº páginas:

232
resumen
comentarios
índice
There is nothing more expensive than a megayacht - private jets and exclusive holiday villas are small luxuries by comparison - and owning one is the ultimate status symbol. In the 1950s and 60s, yachts such as Aristotle Onassis' 325ft yacht Christina were an exclusive indulgence - playgrounds for the rich, famous, heads of state and royalty. Today, fabulous yachts continue to be the definitive way for owners (tycoons, royalty and superstars) to display their wealth, power and good taste - and they just keep getting bigger! They are truly outrageous.

This stunning book showcases 19 of these yachts, touring each of the magnificent vessels from stem to stern, and providing information on their builders and designers. Ranging in size from a relatively modest 138 feet to an incredible 424 feet, the yachts covered include the newly built Christina O, Larry Ellison's 424ft Rising Sun, Roman Abramovich's Pelorus, Tom Perkins' Maltese Falcon, and Predator, Hyperion and Sea Force One. There is even a chapter on chartering cruising megayachts in the Grenadines, French Polynesia and Antarctica - a tantalising glimpse at an amazing alternative kind of holiday.

This lavish volume will be irresistible to anyone who owns a yacht of any size, or who one day dreams of owning one.
Formato papel
[Sin existencias. Plazo de entrega breve]
PVP.

61,50€
Otros libros de Bobrow, Jill
[Sin existencias. Plazo de entrega breve]

PVP. 58,00€