Operation pedestal "the story of the Santa Marija Convoy"
Mizzi, John A.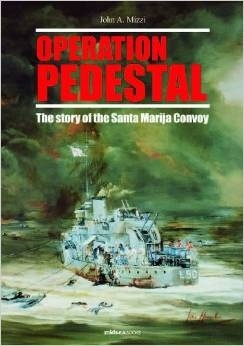 Formato papel
[Sin existencias. Plazo de entrega breve]
PVP.

25,00€
Operation pedestal "the story of the Santa Marija Convoy"
Mizzi, John A.
Comenta y valora este libro
resumen
comentarios
índice
In 1942 an epic naval operation was mounted so as to relieve Malta from the onslaught of attacks by the forces of the Axis. This operation was codenamed Pedestal - or il-Convoy ta' Santa Marija as it is better known in Malta and Gozo. The men taking part in Pedestal must have gone through hell. For example, the gallant tanker SS Ohio withstood persistent Stuka dive bomber attacks, had a Ju87 crash on her deck and when a Ju88 was brought down it bounced off the water and crashed into the vessel's side! Yet Ohio, after much effort by the Royal Navy, her captain and crew, and survivors from other ships, still made it to Grand Harbour in Malta! Il-Convoy ta' Santa Marija is undoubtedly an iconic landmark event in the history of our country and it is therefore only fittingthat those who paid the ultimate price in this operation be commemorated in a Roll of Honour which is reproduced in this book. This book is a lasting memory of this extraordinary mission which was a turning point in the defence of Malta and the Mediterranean during World War II and to all those who lost their lives defending the values of freedom and democracy. John A Mizzi has brought together in one publication a number of related anecdotes and background accounts which may not have been widely known until now, thereby making this an important addition to the records of the fascinating history of Malta and Gozo.
Formato papel
[Sin existencias. Plazo de entrega breve]
PVP.

25,00€