Operation Pedestal : The Fleet That Battled to Malta 1942
Hastings, Max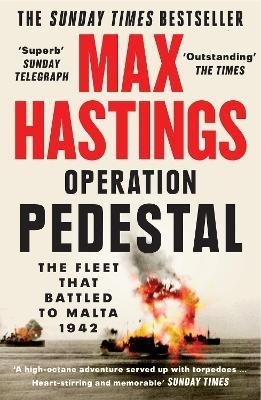 Formato papel
[En stock. Entrega en 24 / 48 horas]
PVP.

13,00€
Operation Pedestal : The Fleet That Battled to Malta 1942
Hastings, Max
Comenta y valora este libro
resumen
comentarios
índice
The Sunday Times bestseller
'One of the most dramatic forgotten chapters of the war, as told in a new book by the incomparable Max Hastings' DAILY MAIL
In August 1942, beleaguered Malta was within weeks of surrender to the Axis, because its 300,000 people could no longer be fed. Churchill made a personal decision that at all costs, the 'island fortress' must be saved. This was not merely a matter of strategy, but of national prestige, when Britain's fortunes and morale had fallen to their lowest ebb.


The largest fleet the Royal Navy committed to any operation of the western war was assembled to escort fourteen fast merchantmen across a thousand of miles of sea defended by six hundred German and Italian aircraft, together with packs of U-boats and torpedo craft. The Mediterranean battles that ensued between 11 and 15 August were the most brutal of Britain's war at sea, embracing four aircraft-carriers, two battleships, seven cruisers, scores of destroyers and smaller craft. The losses were appalling: defeat seemed to beckon.
This is the saga Max Hastings unfolds in his first full length narrative of the Royal Navy, which he believes was the most successful of Britain's wartime services. As always, he blends the 'big picture' of statesmen and admirals with human stories of German U-boat men, Italian torpedo-plane crews, Hurricane pilots, destroyer and merchant-ship captains, ordinary but extraordinary seamen.

Formato papel
[En stock. Entrega en 24 / 48 horas]
PVP.

13,00€
Otros libros de Hastings, Max
[Sin existencias. Plazo de entrega breve]

PVP. 14,00€

[Sin existencias. Plazo de entrega breve]

PVP. 31,50€

[En stock. Entrega en 24 / 48 horas]

PVP. 27,90€