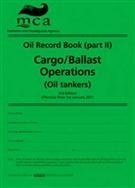 Formato papel
[En stock. Entrega en 24 / 48 horas]
PVP.

20,00€
Comenta y valora este libro
FICHA TÉCNICA
Editorial: The Stationery Office
ISBN:

978-0-11-553157-6

Idioma:

Castellano

Encuadernación:

Rústica

Dimensiones: 0 cm x 0 cm

Nº páginas:

0
resumen
comentarios
índice
Oil Record Book (Part II): Cargo / Ballast Operations (Oil Tankers)' is required in accordance with regulation 36 of Annex I of the International Convention for the Prevention of pollution from Ships (1973), as modified by the Protocol of 1978 (MARPOL 73/78).

The 'Oil Record Book (Part I): Machinery Space operations (All Ships)' is available to purchase separately, please see below for further information.

This Record Book supersedes the 2nd Edition (2006), and will come into effect on 1 January 2011.
Formato papel
[En stock. Entrega en 24 / 48 horas]
PVP.

20,00€
Otros libros de Maritime and Coastguard Agency
[En stock. Entrega en 24 / 48 horas]

PVP. 71,00€

[En stock. Entrega en 24 / 48 horas]

PVP. 29,00€