Oil Record Book (Part I): Machinery Space Operations (All Ships). Third Edition (2010)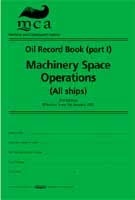 Formato papel
[En stock. Entrega en 24 / 48 horas]
PVP.

20,00€
Oil Record Book (Part I): Machinery Space Operations (All Ships). Third Edition (2010)
Comenta y valora este libro
FICHA TÉCNICA
Editorial: The Stationery Office
ISBN:

978-0-11-553156-9

Idioma:

Inglés

Encuadernación:

Rústica

Dimensiones: 0 cm x 0 cm

Nº páginas:

0
resumen
comentarios
índice
Oil Record Book (Part I): Machinery Space Operations (All Ships)' is required to record Machinery Space Operations for every ship of over 400 tons gross tonnage (other than oil tankers) and every oil tanker over the 150 tons gross tonnage.

This is a vital record book, required in accordance with regulation 17 of the International Convention for the Prevention of Pollution from Ships (1973), as modified by the Protocol of 1978 (MARPOL73/78). The 'Oil Record Book (Part II): Cargo/Ballast Operations (Oil Tankers)' is available to purchase separately, please see below for further information.

This Record Book supersedes the 2nd Edition (2006), and will come into effective on 1 January 2011.
Formato papel
[En stock. Entrega en 24 / 48 horas]
PVP.

20,00€