Neptune "The Allied Invasion of Europe and the D-Day Landings"
Symonds, Craig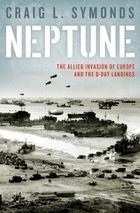 Formato papel
[Sin existencias. Plazo de entrega breve]
PVP.

31,00€
Neptune "The Allied Invasion of Europe and the D-Day Landings"
Symonds, Craig
Comenta y valora este libro
resumen
comentarios
índice
D-Day—June 6, 1944—is seared into popular consciousness: 160,000 Allied troops landed along 50 miles of French coastline to battle German forces on the beaches of Normandy, suffering devastating losses in an invasion that would eventually lead to the liberation of Western Europe. Though it has been studied, discussed, and debated extensively, histories of D-Day have typically overlooked the incredible naval operation necessary for the invasion to succeed: Operation Neptune. Involving over five thousand ships and nearly half a million personnel, Neptune was the largest seaborne assault in human history, without which the battles at Normandy never could have taken place.

In Neptune, renowned historian Craig L. Symonds brilliantly traces the central thread of this Olympian event from the first tentative conversations by British and American officers in Washington in the winter of 1941 to the storming of the beaches in the summer of 1944. With characteristically vivid narration, he uncovers the various components of the operation, including the strategic unity, industrial productivity, sea control, and organizational execution on which the Allied armies in Normandy depended. Symonds follows key personalities, both British and American, from the well-known—Franklin Roosevelt, Winston Churchill, George Marshall, and Eisenhower—to the less-prominent—Admiral Sir Bertram Ramsay and his American counterpart Admiral Ernest J. King—to offer an intimate look at the men involved in this exceptional campaign.

Operation Neptune was never a sure-thing, as Symonds shows, and Neptune explores the disputes of the Anglo-American allies, the demands of Russia, the dangers of German U-boats, and the hundreds of logistical bottlenecks that could have undone the operation at any time. From the suppressing of the U-boat menace in the Battle of the Atlantic to the gearing up of the industrial machine to produce the ships, tanks, landing craft, and other tools of war that would make an invasion possible, Symonds' riveting narrative uncovers the means by which Neptune was brought to fruition, and presents for the first time a comprehensive history of the greatest naval operation of the 20th century.
Formato papel
[Sin existencias. Plazo de entrega breve]
PVP.

31,00€
Otros libros de Symonds, Craig
[Sin existencias. Plazo de entrega breve]

PVP. 19,50€

[Sin existencias. Plazo de entrega breve]

PVP. 31,00€

[Sin existencias. Plazo de entrega breve]

PVP. 30,00€