Model course 6.10 e-book: Train the Simulator Trainer and Assessor,2012 Edition
ET610E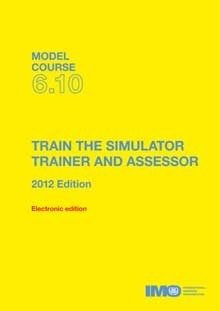 Formato papel
[En stock. Entrega en 24 / 48 horas]
PVP.

48,10€
Model course 6.10 e-book: Train the Simulator Trainer and Assessor,2012 Edition
ET610E
Comenta y valora este libro
FICHA TÉCNICA
Editorial: I.M.O.
ISBN:

X-00023212

Idioma:

Inglés

Dimensiones: 0 cm x 0 cm

Nº páginas:

0
resumen
comentarios
índice
The course includes technical aspects of teaching that have a direct relation with the maritime simulator world. Without delving into the details at this stage, it is however emphasized that the simulator pedagogy, as well as psychology of learning forms an important element of the course.

The topics that have been covered in this modular course have been chosen in such a way as to provide a valuable introduction for those who have little experience in teaching and also as a very useful refresher for experienced instructors. In addition, those whose teaching experience has been limited to lecturing will gain considerable exposure, as they will explore the world of maritime simulation along with a variety of teaching techniques.

The course deals with the relevance of simulator in maritime training and the simulator pedagogy associated with the use of training on a maritime simulator. The basic aspects of the learning process, purpose of training, setting of training objectives and basic principles of course design and the psychology of learning has also been touched upon, however it does not form the main thrust of the course. It is assumed that course participants would have received formal training in these aspects prior to completing this programme.

The course has a large practical component in which the participants implement the theoretical guidelines by planning, creating, executing and evaluating their own simulation exercises. The experimental nature of the course being conducted largely using simulators provides the participants the opportunity to hone the necessary skills required to be an effective simulator instructor.

Please view the supplement demo for this title at www.imo.org/Publications/SupplementsAndCDs/Pages/SupplementsInserts.aspx.
Formato papel
[En stock. Entrega en 24 / 48 horas]
PVP.

48,10€
Otros libros de ET610E
[Sin existencias. Plazo de entrega breve]

PVP. 65,00€