Model course 3.14. SAR Mission Coordinator (IAMSAR Manual, Volume II), 2020 Edition
T314E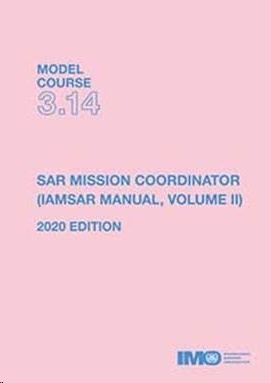 Formato papel
[En stock. Entrega en 24 / 48 horas]
PVP.

37,10€
Model course 3.14. SAR Mission Coordinator (IAMSAR Manual, Volume II), 2020 Edition
T314E
Comenta y valora este libro
FICHA TÉCNICA
Editorial: I.M.O.
ISBN:

X-00035304

Fecha de edición:

2020

Nº edición:

1

Idioma:

Castellano

Dimensiones: 0 cm x 0 cm

Nº páginas:

0
resumen
comentarios
índice
This course provides specific training for those who may be designated to perform the duties
and responsibilities of a search and rescue mission coordinator (SMC) at a maritime or joint
rescue coordination centre or sub-centre for a search and rescue (SAR) incident, and is
based on the content of the 2019 edition of IAMSAR Manual Volume II. The course
highlights SMC-relevant issues for the organization of a maritime SAR service in general,
and assists States in meeting their own SAR needs, and the obligations they accepted under
the International Convention on Maritime Search and Rescue, 1979, as amended, together
with the International Convention for the Safety of Life at Sea (SOLAS), 1974, as amended.
This model course is one of a set of three based on the three volumes of the IAMSAR
Manual: Model Course 3.13 SAR Administration, is intended for government administration
and management as discussed in IAMSAR Manual Volume I; and Model Course 3.15 SAR
On-scene Coordinator, is intended for mobile SAR response facilities as discussed in IAMSAR
Manual Volume III. Together, the three model courses for the three volumes of the IAMSAR
Manual provide a full view of the global and national SAR system.

Formato papel
[En stock. Entrega en 24 / 48 horas]
PVP.

37,10€