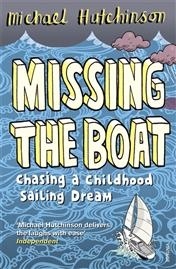 Formato papel
[En stock. Entrega en 24 / 48 horas]
PVP.

12,90€
Comenta y valora este libro
resumen
comentarios
índice
The hilarious true story of an amateur boating adventure.

Yacht racing. A world of privilege and money. Beautiful women, bronzed men, and Simon le Bon explaining that he used to be in a band.

It's not like that for everyone. Somewhere much, much further down the ladder it all looks very different. As a teenager, Michael Hutchinson raced tiny plywood dinghies on Belfast Lough, amid shoals of sewage-eating jellyfish. For him, sailing became the kind of obsession that often as not ends with a psychiatric intervention. Turning pro was his only dream.

Then, at the age of eighteen, driven to despair by his own unremitting mediocrity, he gave up. But he never stopped dreaming about it - what was he missing out on? How good or bad had he really been? Had it really been a wasted youth? At last, fifteen years later, he went back.

Missing the Boat is the story of his comeback season, on the South Coast of England, in Ireland, and in the glamorous resorts of the Mediterranean. It's about the yachts, the people, the regattas, and just what it was like to dive back into a world that had become entirely alien.

Michael Hutchinson won the Best First Book at the British Sports Book Awards.
Formato papel
[En stock. Entrega en 24 / 48 horas]
PVP.

12,90€