Mediterranean "A year around a charmed and troubled sea"
Kingston, Huw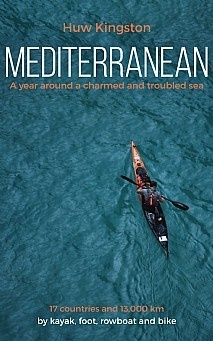 Formato papel
[Sin existencias. Plazo de entrega breve]
PVP.

0,00€
Mediterranean "A year around a charmed and troubled sea"
Kingston, Huw
Comenta y valora este libro
resumen
comentarios
índice
Huw's journey around the shores that gave birth to Western Civilisation is a modern odyssey that reminds us not only of this but also that a real and endlessly fascinating world is still out there… Quote from Tim Macartney-Snape, first Australian to climb Mount Everest and only person to have climbed it from sea to summit

On 26th April 2014 Huw kayaked away from Anzac Cove at Gallipoli, Turkey, taking the next three months to navigate around the coasts of Greece, Albania, Montenegro, Bosnia, and Croatia. Following this, he spent three months walking the full length of the European Alps, taking on Mont Blanc, at 4810m Europe's highest mountain, in the process.

Having left the Alps behind, he biked through Southern France and across Spain before paddling his sea kayak along the coast of Andalucia to Gibraltar and across the Straits of Gibraltar, between the Pillars of Hercules, to North Africa. This was a major achievement, a full traverse of Europe in eight months; 7,500 km from Turkey. However, for Huw, this was only the half-way point.

During winter, the coldest and stormiest for many years, Huw continued the journey by bike through Morocco, Algeria and into Tunisia. The ever-worsening situation in the region forced him to abandon his bike in favour of an alternative mode of transport. A wonderful set of coincidences and circumstances saw Huw use an ocean rowboat to row, by night and day, the 1,500 km to Turkey with a young Slovenian adventurer. It was the first time he had ever rowed in his life. For the final month Huw kayaked the last 1,000 km to where it all began along a Turkish coast now awash with the flotsam and jetsam of the worst refugee crisis in Europe since World War II. After 363 days Huw arrived back to Gallipoli, in time for the centenary commemoration of Anzac Day.

His incredible journey included many memorable events such as being held on a Turkish military island after inadvertently landing to camp, meeting an amazing one-legged hiker while crossing the Alps and arriving dog-tired and starving by kayak to Africa after local kindnesses beat back British and Spanish political differences over Gibraltar to allow a crossing of the Straits of Gibraltar.

Huw took in the extraordinary land and seascapes, the rich and varied cultures and peoples and the current state of many of those countries. This is a fascinating story of endurance, and throughout this epic journey Huw raised funds for the children of war-torn Syria, in the process becoming Save the Children Australia's highest-ever individual fundraiser.
Formato papel
[Sin existencias. Plazo de entrega breve]
PVP.

0,00€