Maritime History and Identity "The Sea and Culture in the Modern World"
Redford, Duncan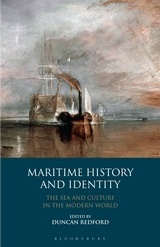 Formato papel
[Sin existencias. Plazo de entrega breve]
PVP.

38,00€
Maritime History and Identity "The Sea and Culture in the Modern World"
Redford, Duncan
Comenta y valora este libro
resumen
comentarios
índice
The sea and its relation to human life has always been a subject of fascination for historians. For the first time, this book looks at the field of Maritime History through the prism of identity, looking at how the sea has influenced the formation of identity at a national, local and individual level from the early modern age to the present. It looks at a variety of people who interacted with the sea in different ways, from merchant sailors to naval officers and on land, from dockworkers to the civilians who participated in the sea-based festivals in the Mediterranean port city of Messina.

This volume has a cultural focus, with chapters exploring the cultural construction of the 'naval hero' in literature, poetry, music and art, and an appraisal of the Japanese author and journalist Masanori, whose works had such a profound influence on Japanese national identity after the Second World War. A key focus is on the ways the Royal Navy influenced British identity at a national and regional level, but this volume also explores other countries with a strong naval tradition, such as Japan, Italy and Germany.

By bringing together a variety of themes related to identity, this book provides the first attempt to thoroughly analyse the ways in which maritime historians have engaged with the question of identity in recent years. In doing so, it provides an important and unique addition to the historiography, which will be essential reading for all scholars of maritime and naval history and those concerned with the question of identity.
Formato papel
[Sin existencias. Plazo de entrega breve]
PVP.

38,00€
Otros libros de Redford, Duncan
[Sin existencias. Plazo de entrega breve]

PVP. 45,00€

[Sin existencias. Plazo de entrega breve]

PVP. 33,00€