Manual on Chemical Pollution (Section 2), 2007 Edition.
IA633E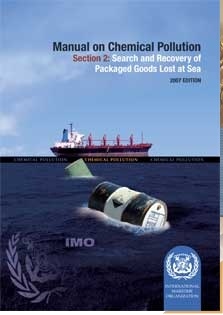 Formato papel
[En stock. Entrega en 24 / 48 horas]
PVP.

14,84€
Manual on Chemical Pollution (Section 2), 2007 Edition.
IA633E
Comenta y valora este libro
resumen
comentarios
índice
The Manual on Chemical Pollution currently has two sections. Section 1, Problem Assessment and Response Arrangements, was published in 1987. The present publication, Section 2, was prepared by the Marine Environment Protection Committee (MEPC) of the International Maritime Organization (IMO), and provides guidance to Governments on search and recovery procedures for packaged goods lost at sea to which the provisions of chapter VII of SOLAS 1974, as amended, and Annex III of MARPOL 73/78, as amended, apply.

Priority should be given to all measures that can reasonably be taken to avoid the loss overboard of packages containing dangerous goods and harmful substances. However, the possibility of such loss can never be totally excluded. Search and Recovery of Packaged Goods Lost at Sea describes the fate of such packages and related options for response, and gives guidelines on how to decide whether the packages should be recovered.

Problems related to oil pollution casualties and related information are specifically addressed in the IMO Manual on Oil Pollution, Sections I to VI.

Expert advice on response to lost packages containing IMDG Code Class 7 (Radioactive material) should be obtained from the International Atomic Energy Agency (IAEA) and reference made to the IAEA planning and preparing for emergency response to transport accidents involving Radioactive Materials Safety Guide TS-G-1.2.
Formato papel
[En stock. Entrega en 24 / 48 horas]
PVP.

14,84€