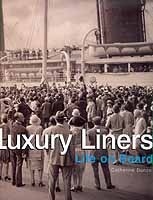 Formato papel
[Sin existencias. Plazo de entrega breve]
PVP.

45,00€
Comenta y valora este libro
FICHA TÉCNICA
Editorial: Vendome Press
ISBN:

978-0-86565-173-9

Fecha de edición:

2006

Idioma:

Inglés

Encuadernación:

Rústica

Dimensiones: 0 cm x 0 cm

Nº páginas:

0
resumen
comentarios
índice
An irresistible world unfolds in this fascinating voyage through the heyday of the great ocean liners. For over a century, from the 1850s to the launch of the Queen Elizabeth II in 1969, great ships like the Queen Mary, Normandie, and Brittania were undisputed monarchs of the sea, when the transatlantic crossing was still the swiftest route between Europe and America.

Luxury Liners presents a sumptuous illustrated history of the glamorous life onboard these enormous ships. The book's organization mimics an actual crossing: the mountains of cargo crammed below decks before embarkation; the crossing itself, with entertainment that might include trained seals; the danger of shipwrecks; and finally, arrival.

Illustrated with rare, unpublished photographs from private collections, Luxury Liners is ideal for maritime history buffs and lovers of a bygone era.
Formato papel
[Sin existencias. Plazo de entrega breve]
PVP.

45,00€
Otros libros de Donzel, Catherine
[En stock. Entrega en 24 / 48 horas]

PVP. 30,00€