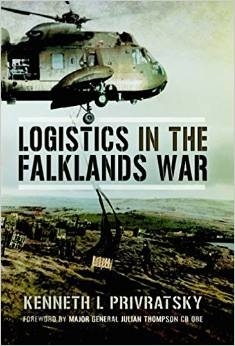 Formato papel
[Sin existencias. Plazo de entrega breve]
PVP.

44,50€
Comenta y valora este libro
resumen
comentarios
índice
While many books have been written on the Falklands War, this is the first to focus on the vital aspect of logistics. The challenges were huge; the lack of preparation time; the urgency; the huge distances involved; the need to requisition ships from trade to name but four.

After a brief discussion of events leading to Argentina's invasion the book describes in detail the rush to reorganize and deploy forces, dispatch a large task force, the innovative solutions needed to sustain the Task Force, the vital staging base at Ascension Island, the in-theater resupply, the setbacks and finally the restoring of order after victory.

Had the logistics plan failed, victory would have been impossible and humiliation inevitable, with no food for the troops, no ammunition for the guns, no medical support for casualties etc.

The lessons learnt have never been more important with increasing numbers of out-of-area operations required in remote trouble spots at short notice. The Falklands experience is crucial for the education of new generations of military planners and fascinating for military buffs and this book fills an important gap.
Formato papel
[Sin existencias. Plazo de entrega breve]
PVP.

44,50€
Otros libros de Privratsky, Kenneth
[En stock. Entrega en 24 / 48 horas]

PVP. 29,50€