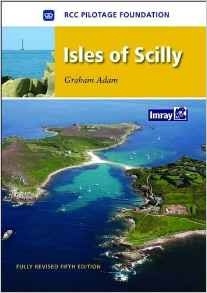 Formato papel
[Sin existencias. Plazo de entrega breve]
PVP.

45,00€
Comenta y valora este libro
FICHA TÉCNICA
Editorial: Imray
ISBN:

978-0-85288-850-6

Fecha de edición:

2010

Nº edición:

5

Idioma:

Inglés

Encuadernación:

Rústica

Dimensiones: 0 cm x 0 cm

Nº páginas:

0

Materias: Derroteros y guías náuticas

/
resumen
comentarios
índice
The new edition of this comprehensive guide to the Isles of Scilly has been completely revised and updated. Throughout there are new photographs including aerial views taken by Patrick Roach.
The background information on the islands, their history and flora and fauna has been expanded and this new edition also sees the introduction of useful waypoints.

The RCCPF's new guide is a must for anyone planning an extended visit to this beautiful archipelago on the edge of the Atlantic.

Formato papel
[Sin existencias. Plazo de entrega breve]
PVP.

45,00€