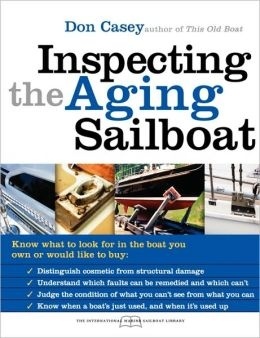 Formato papel
[Sin existencias. Plazo de entrega breve]
PVP.

15,50€
Comenta y valora este libro
FICHA TÉCNICA
Editorial: McGraw-Hill
ISBN:

978-0-07-144545-0

Fecha de edición:

2005

Idioma:

Castellano

Encuadernación:

Rústica

Dimensiones: 0 cm x 23 cm

Nº páginas:

141
resumen
comentarios
índice
Become an Expert Judge of Used Sailboats

Step by step, the author of the bestselling This Old Boat shows you how to evaluate the condition of an older fiberglass sailboat the one you own or the one you'd like to purchase. Don Casey's expert advice helps you:

Assess the condition of a used sailboat in 30 minutes
Prioritize maintenance and repair tasks for a boat you already own
Catch potential problems early
Know where to look and what to look for (and how to interpret what you see)
A professional survey is recommended before purchasing a boat and usually required for financing but with Inspecting the Aging Sailboat, you can consider and reject any number of boats before settling on "the one." This book will streamline your used-boat shopping while saving you hundreds or even thousands of dollars in professional survey fees.

"The perfect place to begin, or to continue your education. . . . As a reviewer of both new and used boats, I own many books filled with advice. I strongly suspect that Inspecting the Aging Sailboat is the one I will consult most." Sailing

"A complete reference for the boatowner or prospective boat buyer on evaluating the condition of fiberglass sailboats using common sense and proven advice." GAM on Yachting Magazine (Canada)

Don Casey is one of today's best and most trusted do-it-yourself boating writers. His nine books include the bestselling This Old Boat and Sailboat Electrics Simplified. He writes the long-running "Ask Don Casey" column for BoatUS.com and is a monthly columnist for Sailnet.com and a regular SAIL magazine contributor.
Formato papel
[Sin existencias. Plazo de entrega breve]
PVP.

15,50€
Otros libros de Casey, Don
[Sin existencias. Plazo de entrega breve]

PVP. 64,00€

[Sin existencias. Plazo de entrega breve]

PVP. 18,50€

[En stock. Entrega en 24 / 48 horas]

PVP. 50,00€

[Sin existencias. Plazo de entrega breve]

PVP. 65,00€

[Sin existencias. Plazo de entrega breve]

PVP. 19,90€