Incredible Journeys "exploring the wonders of animal navigation"
Barrie, David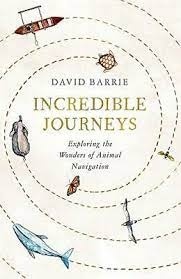 Formato papel
[Sin existencias. Plazo de entrega breve]
PVP.

23,00€
Incredible Journeys "exploring the wonders of animal navigation"
Barrie, David
Comenta y valora este libro
resumen
comentarios
índice
THE SUNDAY TIMES NATURE BOOK OF THE YEAR

'A compelling investigation of navigation in the animal kingdom.' Mail on Sunday

'David Barrie, who himself has sailed the oceans using a sextant, is passionate about navigation and describes in delightful detail the myriad ways in which animals get around ... eye-opening book.' Frans de Waal, New York Times

'Only a sailor could relate the navigational powers of both humans and animals with such appreciation, excitement, and precision. Thank you, David Barrie, for taking us along on these riveting voyages by sail and wing, hoof and flipper. We arrive surprised, delighted, and awed.' Sy Montgomery, author of The Soul of an Octopus

'Immensely entertaining... Barrie is an admirably reliable and assiduous guide to what we do and don't yet know.' Andrew Holgate, Sunday Times

'Barrie has a good eye for colourful detail.' Kathryn Hughes, Mail on Sunday

'This is a must-read for anyone fascinated with the wonders of nature.' Publishers Weekly

In Incredible Journeys, award-winning author David Barrie takes us on a tour of the cutting-edge science of animal navigation, where breakthroughs are allowing scientists to unravel, for the first time, how animals as various as butterflies, birds, crustaceans, fish, reptiles and even people find their way.

Weaving interviews with leading experts on animal behaviour with the groundbreaking discoveries of Nobel-Prize winning neuroscientists, Barrie shines a light on the astounding skills of animals of every stripe. Dung beetles that steer by the light of the Milky Way. Ants and bees that navigate using patterns of light invisible to humans. Sea turtles, spiny lobsters and moths that find their way using the Earth's magnetic field. Salmon that return to their birthplace by following their noses. Baleen whales that swim thousands of miles while holding a rock-steady course and birds that can locate their nests on a tiny island after crisscrossing an entire ocean. There's a stunning diversity of animal navigators out there, often using senses and skills we humans don't have access to ourselves. For the first time, Incredible Journeys reveals the wonders of these animals in a whole new light.
Formato papel
[Sin existencias. Plazo de entrega breve]
PVP.

23,00€
Otros libros de Barrie, David
[Sin existencias. Plazo de entrega breve]

PVP. 22,90€

[En stock. Entrega en 24 / 48 horas]

PVP. 14,50€