In harm's way "the sinking of the USS Indianapolis and the extraordinary story"
Stanton, Doug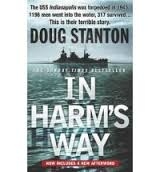 Formato papel
[Sin existencias. Plazo de entrega breve]
PVP.

17,00€
In harm's way "the sinking of the USS Indianapolis and the extraordinary story"
Stanton, Doug
Comenta y valora este libro
resumen
comentarios
índice
The USS Indianapolis was the last ship sunk during the Second World War. Savaged by a salvo of torpedoes from a Japanese submarine, the warship, one of the fastest in the US Navy, sank in a matter of minutes. One thousand two hundred men went into the water, and only 321 were to survive. This is their story. On 30 July 1945 the Indianapolis was returning from the small island of Tinian, having delivered the components of the atom bomb 'baby boy', which was to decimate Hiroshima and bring on the end of the war. As the torpedoes ripped into the side of the ship hundreds of men were killed. Those lucky enough to survive in the water were to face extremes of physical and mental hardship. Many were left to float in the ocean with little or no food or drinking water in deteriorating life jackets and, most chillingly of all, open to attacks by sharks. The testimonies of those who lived speak of the extremes of human emotion, incredible courage and unforgettable despair. The visceral experiences of those five days were to haunt them for the rest of their lives. The Indianapolis was captained by the dashing and charismatic Captain Butler McVay, and his story is a tragic one. For a captain to lose his ship in combat is perhaps the hardest blow, but McVay was doubly marked, as he was held responsible for the loss and court-martialled - the only naval captain ever to be court-martialled for the sinking of his ship. Twenty years after the Indianapolis went to the bottom, tormented by the experience and the resentment of many of the families of those who lost their lives in the disaster, he took his own life. Those who also survived maintain that there was nothing he could have done to prevent the disaster, and continue to campaign to clear the captain's name. This book is also his story.
Formato papel
[Sin existencias. Plazo de entrega breve]
PVP.

17,00€