IAMSAR Manuel. Volumen II. Missión coordination. 2022 Edition
IH961E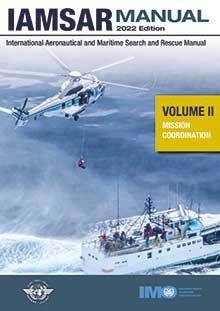 Formato papel
[En stock. Entrega en 24 / 48 horas]
PVP.

121,90€
IAMSAR Manuel. Volumen II. Missión coordination. 2022 Edition
IH961E
Comenta y valora este libro
FICHA TÉCNICA
Editorial: I.M.O.
ISBN:

X-00037872

Fecha de edición:

2022

Idioma:

Inglés

Encuadernación:

Rústica

Dimensiones: 0 cm x 30 cm

Nº páginas:

0
resumen
comentarios
índice
Jointly published by IMO and the International Civil Aviation Organization (ICAO), the three-volume International Aeronautical and Maritime Search and Rescue Manual (IAMSAR) provides guidelines for a common aviation and maritime approach to organizing and providing search and rescue (SAR) services.

Each volume can be used as a stand-alone document or, in conjunction with the other two volumes, as a means to attain a full view of the SAR system. The three volumes are sold separately.


IAMSAR Manual, Volume II - The Mission Coordination volume assists personnel who plan and coordinate SAR operations and exercises.

The 2019 edition incorporates amendments adopted by ICAO and approved by the IMO Maritime Safety Committee. The 2018 amendments enter into force on 1 July 2019.
Formato papel
[En stock. Entrega en 24 / 48 horas]
PVP.

121,90€