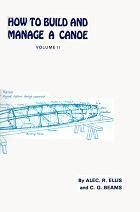 Formato papel
[En stock. Entrega en 24 / 48 horas]
PVP.

12,50€
Comenta y valora este libro
FICHA TÉCNICA
Editorial: Brown, Son and Ferguson, LTD.
ISBN:

978-0-85174-088-1

Idioma:

Castellano

Encuadernación:

Tapa dura

Dimensiones: 0 cm x 0 cm

Nº páginas:

0
resumen
comentarios
índice
This volume gives all the drawings and illustrations shown in Vol. 1 on a very much larger scale so that strict accuracy may be obtained in the building of the frames and other vital parts, thus avoiding a possible source of error if the preparation of full-scale plans is to be undertaken before work can commence. Quite a small error can upset a whole design, and a good start is half the battle. These full-scale drawings are issued separately for those who want to make a first-class job of their canoe.
Formato papel
[En stock. Entrega en 24 / 48 horas]
PVP.

12,50€
Otros libros de Ellis, Alec R.
[Sin existencias. Plazo de entrega breve]

PVP. 3,50€

[En stock. Entrega en 24 / 48 horas]

PVP. 10,50€