Guidance for LNG Carriers Transiting the Panama Canal
SIGTTO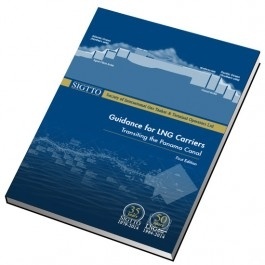 Formato papel
[Sin existencias. Plazo de entrega breve]
PVP.

164,00€
Guidance for LNG Carriers Transiting the Panama Canal
SIGTTO
Comenta y valora este libro
resumen
comentarios
índice
The Panama Canal (third set of locks) expansion project, when completed, should enable the majority of LNG carriers to transit the Canal. Historically, LNG carriers have been unable to transit the Panama Canal, mainly due to size restrictions. SIGTTO and the Panama Canal Authority (ACP) took a proactive and consultative approach, identifying issues that may need to be addressed to permit the safe and efficient transit of LNG carriers through the Canal. This Guide is the result of these consultations and is intended to provide practical guidance on the ACP requirements for the transit of LNG carriers through the Panama Canal.
When compiling this Guide, SIGTTO and the ACP referred to relevant ACP regulations in force at such time, as well as to SIGTTO guidance, industry standards and best practices. However, users of this Guide should be aware that if new regulations or requirements are deemed necessary for the safe transit of any vessels (or more specifically LNG carriers) in the future, the ACP may implement them at any time.
This Guide also contains guidance on safety, minimum equipment levels and what might be considered to be good operating practices. This Guide is not a substitute for consulting the up to date applicable regulations and legislation (both national and international). For the avoidance of doubt, where such regulations and/or legislation conflict with the guidance in thisGuide, such regulations and/or legislation shall always be followed in preference to this Guide.
This Guide is only applicable to LNG carriers that transit the Panama Canal via the Cocoli and Agua Clara locks and, notwithstanding the content of this Guide, the ACP may modify the transit requirements for LNG carriers at any time.

Formato papel
[Sin existencias. Plazo de entrega breve]
PVP.

164,00€
Otros libros de SIGTTO
[Sin existencias. Plazo de entrega breve]

PVP. 190,00€

[Sin existencias. Plazo de entrega breve]

PVP. 495,00€