European cruise ports of call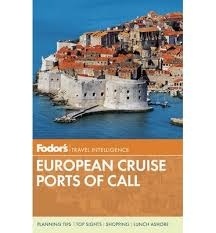 Formato papel
[Sin existencias. Plazo de entrega breve]
PVP.

19,50€
European cruise ports of call
Comenta y valora este libro
FICHA TÉCNICA
Editorial: Fodor's Travel
ISBN:

978-0-89141-947-1

Fecha de edición:

2013

Nº edición:

3

Idioma:

Inglés

Encuadernación:

Rústica

Nº páginas:

623
resumen
comentarios
índice
European cruising is growing by double-digits. By 2013, there will be more cruise ships in European waters than in any year since modern leisure cruising began. Filled with concise and practical overviews of over 80 top European cruise ports, Fodor's European Ports of Call guide offers cruise passengers everything they need to know to make the most of their day ashore. Combined with a concise and practical cruise primer and overviews of the major European cruise lines, European Ports of Call is the most practical companion a cruise ship passenger can take along on a European cruise.

Competitive Advantage: Fodor's European Ports of Call covers more ports of call than any other European cruise guidebook. Fodor's tracks most of the top cruise ports in Europe in every major cruising region—from the Mediterranean to the Aegean to the North Sea to the Baltic.

Expanded Coverage: This edition introduces more ports of call, plus recommendations for bespoke tours and the latest updates on important sights.

Indispensable Trip Planning Tools: This guide provides an overview of what awaits cruise passengers on shore in every port—from transportation options and sightseeing, to lunch recommendations, local activities, and shopping tips. Best Bets identify the top attractions and experiences in each port.

Money-Saving Tips: Cruise passengers never need to book another high-priced shore excursion again. With comprehensive sightseeing and shopping coverage, this guide provides everything the traveler needs to know so that they can hit the highlights of every major European cruise port in just a few hours on their own.

Discerning Recommendations: Fodor's European Ports of Call offers savvy advice and recommendations from local writers to help travelers make the most of their time. Fodor's Choice designates our best picks, from hotels to nightlife. "Word of Mouth" quotes from fellow travelers provide valuable insights.
Formato papel
[Sin existencias. Plazo de entrega breve]
PVP.

19,50€