e-reader:Load Lines Convention, 2021 spanish Ed
KC701S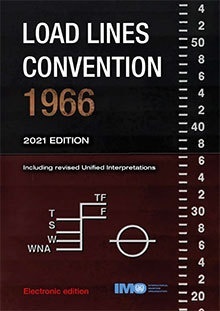 Formato papel
[Sin existencias. Plazo de entrega breve]
PVP.

59,00€
e-reader:Load Lines Convention, 2021 spanish Ed
KC701S
Comenta y valora este libro
resumen
comentarios
índice
This IMO digital publication (e-reader) is in EBK format for use on a
single computer/laptop with our Windows-based e-reader software, "The
IMO Bookshelf". If your customer does not already have this software
installed on their computer, it can be downloaded, free of charge here:
www.imo.org/en/Publications/Pages/Bookshelf.aspx


The International Convention on Load Lines, 1966, adopted by the
International Conference on Load Lines on 5 April 1966, entered into
force on 21 July 1968 and has been modified by the 1988 Protocol
relating thereto and amended by Assembly and Maritime Safety Committee
resolutions over the past 50 years.

This 2021 edition includes up-to-date, consolidated text in line with
amendments adopted up to 1 July 2021, as well as updated unified
interpretations that have been keyed to relevant articles and
regulations.


Formato papel
[Sin existencias. Plazo de entrega breve]
PVP.

59,00€