e-reader: ISM Code with Guidelines, 2018 Edition
KD117E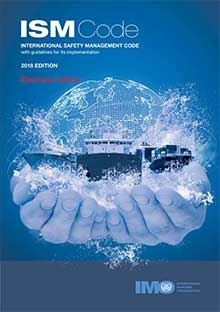 Formato papel
[En stock. Entrega en 24 / 48 horas]
PVP.

32,00€
e-reader: ISM Code with Guidelines, 2018 Edition
KD117E
Comenta y valora este libro
FICHA TÉCNICA
Editorial: I.M.O.
ISBN:

X-00032380

Fecha de edición:

2018

Idioma:

Inglés

Dimensiones: 0 cm x 0 cm

Nº páginas:

0
resumen
comentarios
índice
This IMO digital publication (e-reader) is in EBK format for use on a single computer/laptop with our Windows-based e-reader software, "The IMO Bookshelf". If your customer does not already have this software installed on their computer, it can be downloaded, free of charge here: www.imo.org/en/Publications/Pages/Bookshelf.aspx

Once you have purchased this title, go to 'My Transactions'. By following the relevant link, you will then be transferred to our Virtual Publications site where you can assign this title to your customer.

NB: Your customer may print 10% of the text (approx. a chapter) at a time from a single title with a maximum of 75 pages per day across all titles (not pdf).

The International Safety Management (ISM) Code with guidelines for its implementation provides an international standard for the safe management and operation of ships and for pollution prevention.

It is an essential reference for maritime administrations, shipowners and operators, shipping companies, training providers and education institutes, shipbuilders, engine and equipment manufacturers and others with interest in ensuring safety at sea and prevention of damage to the environment.

This publication includes the texts of SOLAS chapter IX and the ISM Code. Additionally, Guidelines for the operational implementation of the International Safety Management (ISM) Code by Companies, Guidance on the qualifications, training and experience necessary for undertaking the role of the designated person under the provisions of the ISM Code, Guidance on near-miss reporting, Guidelines on Maritime Cyber Risk Management and resolution MSC.428(98) on Maritime Cyber Risk Management in Safety Management Systems are included.

Formato papel
[En stock. Entrega en 24 / 48 horas]
PVP.

32,00€