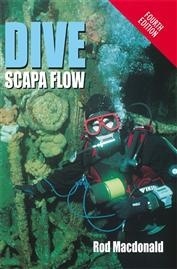 Formato papel
[Sin existencias. Plazo de entrega breve]
PVP.

25,00€
Comenta y valora este libro
resumen
comentarios
índice
Dive Scapa Flow is a comprehensive and practical guide to the spectacular and famous Orkney wrecks - the colossal, intact remains of the scuttled German fleet, U-boats, steamers, tugs and Churchill's extraordinary 'Blockships'.

Since this book was first published, there have been huge advances in diving technique and with the new wave of 'technical diving', wrecks previously beyond the realm of the air diver can now be reached. This updated and revised edition incorporates these, particularly HMS Hampshire, which took Lord Kitchener to his doom in 1916. Rod Macdonald's intimate knowledge of the dives is supplemented by up-to-date information on characters, travel and accommodation in the area.

An essential companion for discovering the underwater secrets and intriguing naval history of Britain's most popular dive site, Dive Scapa Flow comes complete with illustrations, photographs and charts.
Formato papel
[Sin existencias. Plazo de entrega breve]
PVP.

25,00€
Otros libros de Macdonald, Rod
[Sin existencias. Plazo de entrega breve]

PVP. 0,00€