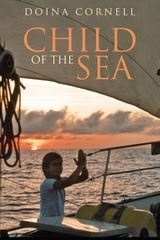 Formato papel
[Sin existencias. Plazo de entrega breve]
PVP.

21,00€
Comenta y valora este libro
resumen
comentarios
índice
A Child of the Sea is the true story of Jimmy Cornell's daughter sailing around the world on the family's small yacht from the age of 7 to 14, based on Doina's diaries, letters and memories. From 1975 to 1981 the Cornell family visited 54 countries, sailed more than 68,000 miles, and travelled about the same distance overland. The story is told from Doina's point of view, although the main part of the book focuses on the family's three-year stay in the Pacific when she is aged between 10 and 13.

Child of the Sea is unusual in that it gives a glimpse into a life that most young children couldn't imagine, swimming, diving and playing the days away in deserted anchorages; visiting some of the most beautiful islands in the world; falling in love with the sea in all its ever-changing moods, from balmy trade wind ocean passages to the treacherous breakers that crash onto tropical reefs, and taking a full part in sailing and handling the yacht on passage. The book also tells the story of a girl's coming of age in the South Pacific, understanding different cultures and values, and experiencing at first-hand how people judge each other depending on the colour of their skin - from the time on Easter Island when tourists mistake Doina for a Polynesian girl, to her and her brother's hostile prejudiced reception back in an English school at the end of their journey.

What do children need to grow up happy and healthy? Security with their family; an element of risk; freedom to explore the world; openness to other peoples and cultures; closeness with nature and the elements and an appreciation of the environment and our finite resources. The sailing life offers all this and more, and this book captures it all.
Formato papel
[Sin existencias. Plazo de entrega breve]
PVP.

21,00€