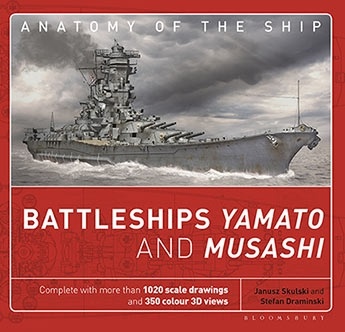 Formato papel
[Sin existencias. Plazo de entrega breve]
PVP.

50,00€
Comenta y valora este libro
resumen
comentarios
índice
A uniquely detailed visual representation of a legendary Japanese warship.

Equipped with the largest guns and heaviest armour and with the greatest displacement of any ship ever built, the Yamato proved to be a formidable opponent to the US Pacific Fleet in the Second World War. The book contains a full description of the design and construction of the battleship including wartime modifications, and a career history followed by a substantial pictorial section with rare onboard views of Yamato and her sister ship Musashi, a comprehensive portfolio of more than 600 perspective and three-view drawings, and 30 photographs. The new volume will include 3D colour renditions of both ships. The wreck of Musashi has been recently discovered to great excitement in Japan, renewing interest in these iconic warships.

Janusz Skulski's anatomies of three renowned ships of the 20th century Japanese navy are among the most comprehensive of the Anatomy series with hundreds of meticulously researched drawings of the ships. Since their first publication he has continued to research the ships and has now produce a more definitive anatomy than was possible then. He has teamed up with 3D artist Stefan Draminksi who produces superb realistic renditions of the ships that bring a whole new level of detail to the portraits of the ships. This new editions is a genuine 'Super Anatomy' containing the most detailed renditions of these ships ever seen.
Formato papel
[Sin existencias. Plazo de entrega breve]
PVP.

50,00€