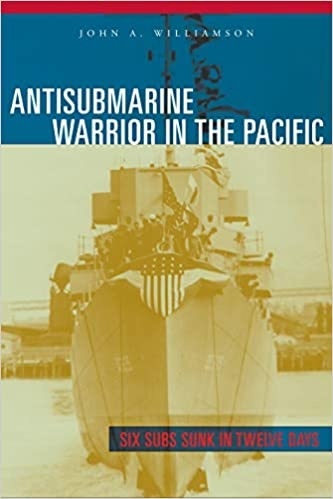 Formato papel
[Sin existencias. Plazo de entrega breve]
PVP.

23,00€
Comenta y valora este libro
FICHA TÉCNICA
Editorial: University Alabama Press
ISBN:

978-0-8173-6007-8

Fecha de edición:

2021

Nº edición:

1

Idioma:

Inglés

Dimensiones: 0 cm x 0 cm

Nº páginas:

0
resumen
comentarios
índice
A first-hand account of the USS England's accomplishments, written by its commanding officer

The USS England was a 1200-ton, 306-foot, long-hull destroyer escort. Commissioned into service in late 1943 and dispatched to the Pacific the following February, the England and its crew, in one 12-day period in 1944, sank more submarines than any other ship in U.S. naval history: of the six targets attacked, all six were destroyed. For this distinction, legendary in the annals of antisubmarine warfare, the ship and her crew were honored with the Presidential Unit Citation.

After convoying in the Atlantic, John A. Williamson was assigned to the Englandfirst as its executive officer, then as its commanding officerfrom the time of her commissioning until she was dry-docked for battle damage repairs in the Philadelphia Naval Yard fifteen months later. Besides being a key participant in the remarkable antisubmarine actions, Williamson commanded the England in the battle of Okinawa, where she was attacked by kamikaze planes.

Williamson narrates his memoir with authority and authenticity, describes naval tactics and weaponry precisely, and provides information gleaned from translations of the orders from the Japanese high command to Submarine Squadron 7. The author details the challenges of communal life aboard ship and explains the intense loyalty that bonds crew members for life. Ultimately, Williamson offers a compelling portrait of himself, an inexperienced naval officer who, having come of age in Alabama during the Depression, rose to become the most successful World War II antisubmarine warfare officer in the Pacific.
Formato papel
[Sin existencias. Plazo de entrega breve]
PVP.

23,00€