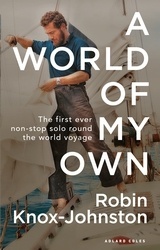 Formato papel
[En stock. Entrega en 24 / 48 horas]
PVP.

16,50€
Comenta y valora este libro
resumen
comentarios
índice
On Friday 14 June 1968 Suhaili, a tiny ketch, slipped almost unnoticed out of Falmouth harbour steered by the solitary figure at her helm, Robin Knox-Johnston. Ten and a half months later Suhaili, paintwork peeling and rust streaked, her once white sails weathered and brown, her self-steering gone, her tiller arm jury rigged to the rudder
head, came romping joyously back to Falmouth to a fantastic reception for Robin, who had become the first man to sail round the world non-stop single-handed.

By every standard it was an incredible adventure, perhaps the last great uncomputerised journey left to man. Every hazard, every temptation to abandon the astounding voyage came Robin's way, from polluted water tanks, smashed cabin top and collapsed boom to lost self-steering gear and sheered off tiller, and all before the tiny ketch had fought her way to Cape Horn, the point of no return, the fearsome test of any seaman's nerve and determination.

A World of My Own is Robin's gripping, uninhibited, moving account of one of the greatest sea adventures of our time. An instant bestseller, it is now reissued for a new generation of readers to be enthralled and inspired.
Formato papel
[En stock. Entrega en 24 / 48 horas]
PVP.

16,50€
Otros libros de Knox-Johnston, Robin
[Sin existencias. Plazo de entrega breve]

PVP. 23,00€

[Sin existencias. Plazo de entrega breve]

PVP. 27,00€