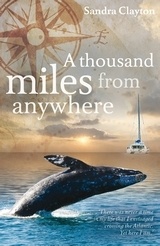 Formato papel
[En stock. Entrega en 24 / 48 horas]
PVP.

14,50€
Comenta y valora este libro
resumen
comentarios
índice
Following Dolphins Under My Bed and Turtles in Our Wake comes the third leg of the Claytons' voyage, two early retirees who decided to live life sailing from place to place to fulfil their dream.

Told uniquely from the wife's perspective, Sandra Clayton was initially a reluctant sailor, but became a keen yachtswoman by the end of the first book when the couple sailed from the UK to the Mediterranean. In this installment she describes their transatlantic crossing, from Gibraltar via the Atlantic Islands to the Caribbean, and ending up in Fort Lauderdale.

Sandra's previous two books have attracted a loyal and growing readership both in the UK and the US, no doubt due to her engaging writing style. A Thousand Miles from Anywhere is a similarly entertaining travelogue about the Claytons' experiences, detailing the wonderful places they visited, the fascinating people they met and the humorous situations they got involved in.
Formato papel
[En stock. Entrega en 24 / 48 horas]
PVP.

14,50€