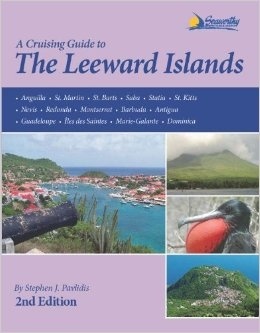 Formato papel
[Sin existencias. Plazo de entrega breve]
PVP.

30,00€
Comenta y valora este libro
resumen
comentarios
índice
The Leeward Islands Cruising Guide 2nd ed. is the completely updated version of Steve Pavlidis' comprehensive guide to the Leeward Islands that stretch from the northernmost, Anguilla to the southernmost, Dominica. Now in full-color with many new charts abd aerial photos of the principal harbors. Its 85 sketch charts contain extremely accurate data that is based on independent surveys personally conducted by the author, using a computer hydrographic system. In addition, it contains detailed piloting instructions, GPS waypoints, aerial photos, approaches and routes, anchorages, services, dive sites, history, index, bibliography and more. The Leeward Islands Cruising Guide, 2nd ed. will greatly enhance your cruising experience in this region by giving you valuable information that is based on actual experience, and local knowledge.
Formato papel
[Sin existencias. Plazo de entrega breve]
PVP.

30,00€
Otros libros de Pavlidis, Stephen J.
[Sin existencias. Plazo de entrega breve]

PVP. 62,00€

[Sin existencias. Plazo de entrega breve]

PVP. 65,00€

[En stock. Entrega en 24 / 48 horas]

PVP. 75,00€

[Sin existencias. Plazo de entrega breve]

PVP. 64,00€

[Sin existencias. Plazo de entrega breve]

PVP. 36,66€

[En stock. Entrega en 24 / 48 horas]

PVP. 54,00€

[Sin existencias. Plazo de entrega breve]

PVP. 29,00€